Issue 5
August-September 2016
WATER WORKS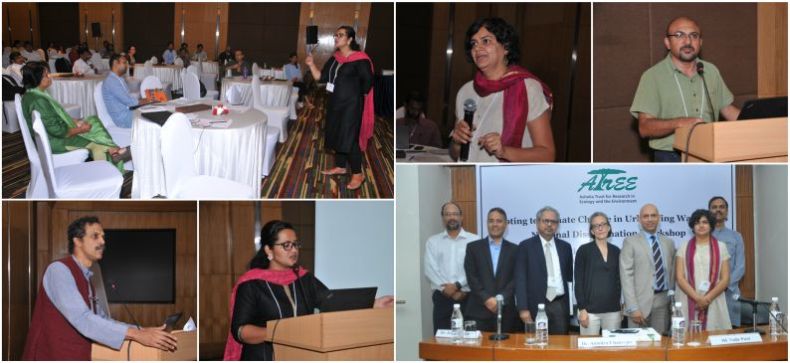 The Water, Land & Society (WLS) programme at ATREE organised workshops in Coimbatore, Bangalore, and Delhi to disseminate the outcomes from one of their recently concluded research projects, 'Adapting to Climate Change in Urbanizing Watersheds' (ACCUWa).

Workshops were conducted to disseminate the outcomes of the project, which aimed to understand the challenges for sustainable, efficient and fair water management in urbanising contexts. Increasing water demand, transforming land-use, and limited infrastructure often result in hydrological, water quality, and social changes. Additionally, climate change threatens to exacerbate the problems. ATREE conducted this project in the Arkavathy and the Noyyal sub-basins in Karnataka and Tamil Nadu respectively.

The WLS team also disseminated the findings of the five-year project 'Agrarian Change, Urbanization and the Environment', funded by the Tata Trusts; the 'Managing surface water quality in urbanizing watersheds' workshop was conducted in Bangalore.

Here is a list of news articles that the workshops yielded

'Dip in groundwater, eucalyptus dried up Arkavathy' – Deccan Chronical Aug 11

'What killed the Arkavathy?' – Bangalore Mirror, Aug 11

'Arkavathy: A river that is about to disappear' – The Hindu, Aug 12

'50 heavy metal discharge from Peenya industrial area goes straight into Vrishabhavathi river' – The Times of India, Aug 05

'City's oldest STP has zero impact on water it treats' – Bangalore Mirror, Aug 06

'Illegal industrial discharge harming Vrishabhavathi, says ATREE study ' – The Hindu, Aug 06

"From River to Sewer"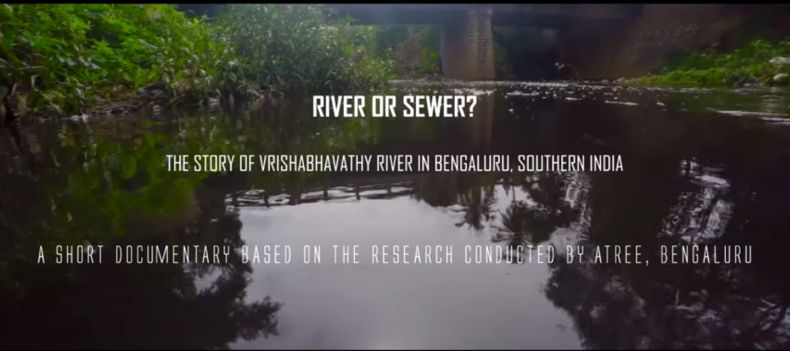 ATREE recently released a 10-minute documentary that covered a research project conducted by the Water, Land and Society programme in southern Bangalore's Vrishabhavathy catchment.

The documentary is a culmination of a recently concluded four-year research project, which set out to elucidate the effects of waste water for irrigation. During the course of the research, the team also revealed that this river is polluted with heavy metals and coliforms.

Watch the documentary here

Culture & Ecology
As part of its 20th-year celebrations, ATREE hosted a symposium on Ecology and Culture to felicitate one of its Founding Trustees, Prof. K.N. Ganeshaiah – a renowned biologist and stalwart of Kannada literature.

The symposium examined the relationship between culture and biodiversity conservation through talks by Prof. Kathleen Morrison, Neukom Family Professor of Anthropology and of Social Sciences and Chair of the Anthropology Department, University of Chicago; Mr. Theodore Baskaran, author and naturalist; and Prof. Eivin Roskaft, Professor in Evolutionary Biology at the Department of Biology, Norwegian University of Science and Technology (NTNU).

To watch videos of the talks, click here

North East India Biodiversity Portal Workshop
ATREE and the open-access India Biodiversity Portal, in collaboration with the Department of Forestry, North Eastern Regional Institute of Science and Technology (NERIST), conducted a training workshop in Nirjuli, Arunachal Pradesh on the Northeast India Biodiversity Portal.

The workshop provided an opportunity to 36 researchers, students, conservation practitioners, and biodiversity enthusiasts to learn about documenting and disseminating biodiversity-related knowledge.

The workshop also comprised a theory session on various aspects of the IBP, followed by a field visit where participants documented local biodiversity, and a hands-on session in which they uploaded information to the Portal.

PERSPECTIVES
"New plans instead of new pills" – Aug 15 The Hindu

Drawing on the arguments of Amitav Ghosh's recently released book 'The Great Derangement', Kartik Shanker, ATREE's Director, wrote an Op-Ed in the Hindu which draws parallels between modern lifestyle choices, its implications for the environment, and the present global health crisis.

"The idea that substantial changes in lifestyle can reduce environmental or health problems exists but appears almost impossible to adopt. This is particularly peculiar in the case of the latter. With environmental problems, individual efforts can be perceived as having a negligible effect and therefore lead to inertia. With health, on the other hand, individual choices can make the difference between life and death, literally. And yet, barring a few, there seems to be the same collective lethargy towards making those choices." Read More>>

NEWS
"Blind dolphins in Ganga waterway" – Aug 31, The Third Pole
Nachiket Kelkar, a PhD Student at ATREE spoke about the ecological and social perils of the National Waterways Bill, which seeks to use Indian rivers as alternate, 'greener' means of transportation. Nachiket also lays focus on dredging activities along the river that could not only potentially destroy fish breeding grounds and turtle habitats, but also have profound impacts on the behavior of Ganges River Dolphins. Read More>>
| | |
| --- | --- |
| A Marathi language news-paper recently covered ATREE's work under the One Health project. ATREE researchers, along with the Solapur Municipal Corporation(Maharashtra), organised a workshop to train the Sanitary Inspectors on conducting dog census in Solapur City. The project, which aims to understand the dynamics of rabies in India, is being conducted in the states of Maharashtra, Goa and Karnataka to improve national policy on the control and prevention of the disease. Read more>>. | |
"Why frogs can tell you more about the forest than tigers" – Aug 20 Times of India
An article that draws attention to the vast abundance and diversity of frogs, quite evident by the abundance of new frog species discoveries, quotes Kartik Shanker, ATREE's Director, about the need to study the causes of this diversity. He argues that the reasons for their diversity could "provide fascinating insights into the ecology and evolution of these little-known groups as well as of these spectacular species rich regions." Read more>>
"Art for a cause" – Aug 20, Livemint
ATREE helped organise workshops and exhibitions in Leh, Tso Moriri and Tso Kar regios where school children participated in the 'art for conservation' project, along with Ladakh Arts and Media Organization (LAMO). Focusing on the threatened Black-necked Crane, which is celebrated in mountain folklore and features prominently in Buddhism, the workshops entailed training local students in making miniature models of these birds, which were later installed in the their schools and LAMO's galleries. Read more>>
"50% heavy metal discharge from Peenya Industrial Area goes straight into Vrishabhavathi river" –Aug 05, Times of India
This Times of India article covered ATREE's water quality analyses in the Vrishabhavathy river; Priyanka Jamwal, a fellow at ATREE's Water, Land and Society programme, led the study. ATREE's research had revealed that the Vrishabhavathy River is contaminated with heavy metals including chromium, zinc, copper, lead, manganese and aluminum, which emanate from alloy smelters, textile industries and electroplating units, in Bangalore's Peenya Industrial Area. ATREE's 24 hour round-the-clock water analysis had proved that these discharges usually occur at night. Read more>>
'Even evergreen has an expiry date, Thanks to Climate Change' –September 16, Bangalore Mirror
Bangalore Mirror wrote an article about a research paper by G Ravikanth, which broadly describes how climate change and anthropogenic disturbances threaten five species of the Myristicaceae family. The article summarises key findings of the paper, which describes the challenges for the long-term survival of these species. While the research elaborates on the loss of habitats in the Western Ghats of two species of swampy Myristicaceae, it reveals that the habitats for three other non-swampy species in the region are aplenty. Read more>>